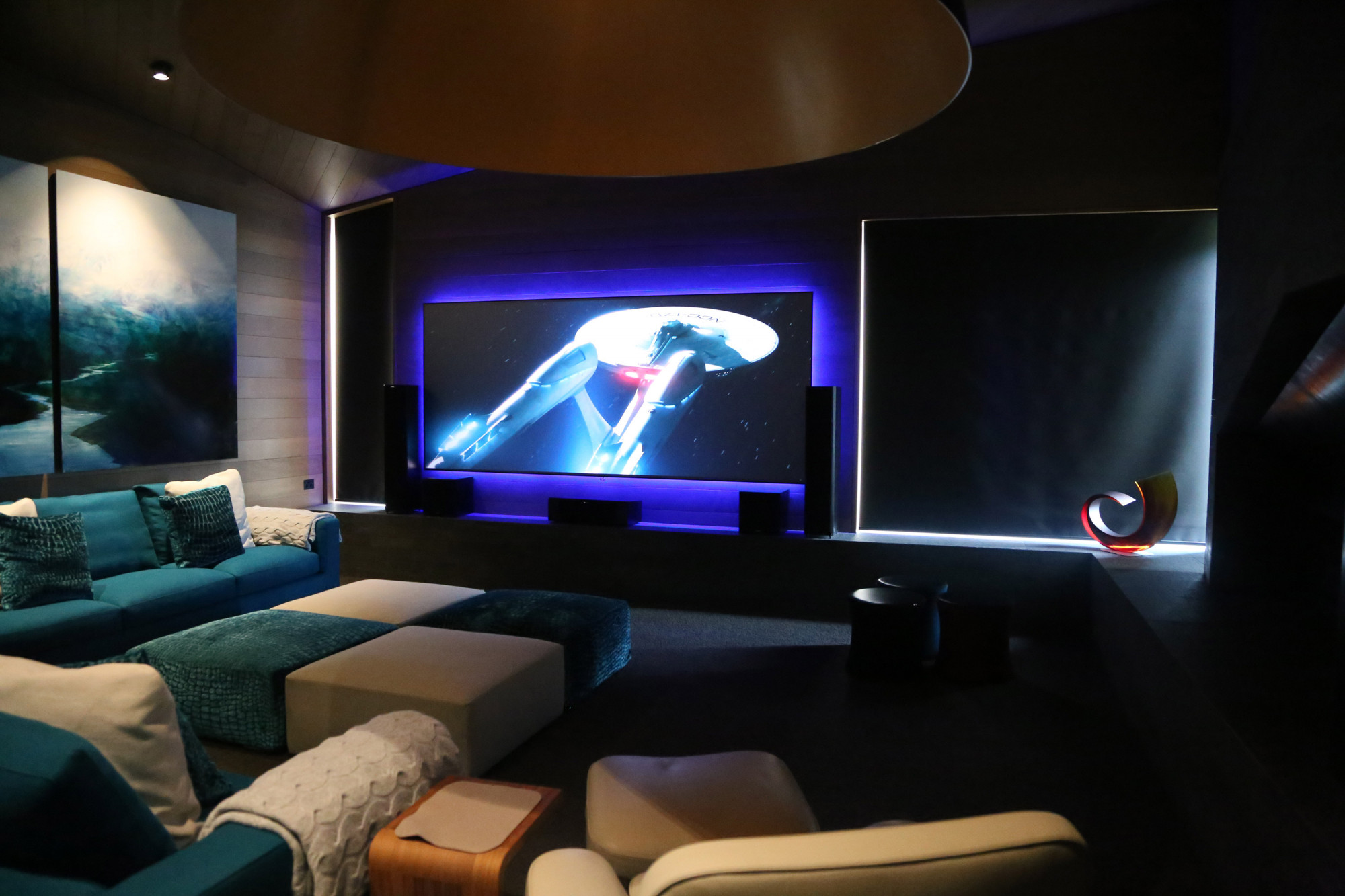 The Copper House
The Copper House is a large, modern holiday house and one of Queenstown's most exclusive rental properties.
Because the property is used as high end guest accommodation our customer required a solution that anybody could operate without instruction.
At close to 1200sqm of floor space, an intelligent Lighting Control System is crucial to simplifying the operation of multiple light circuits, motorized shades and windows.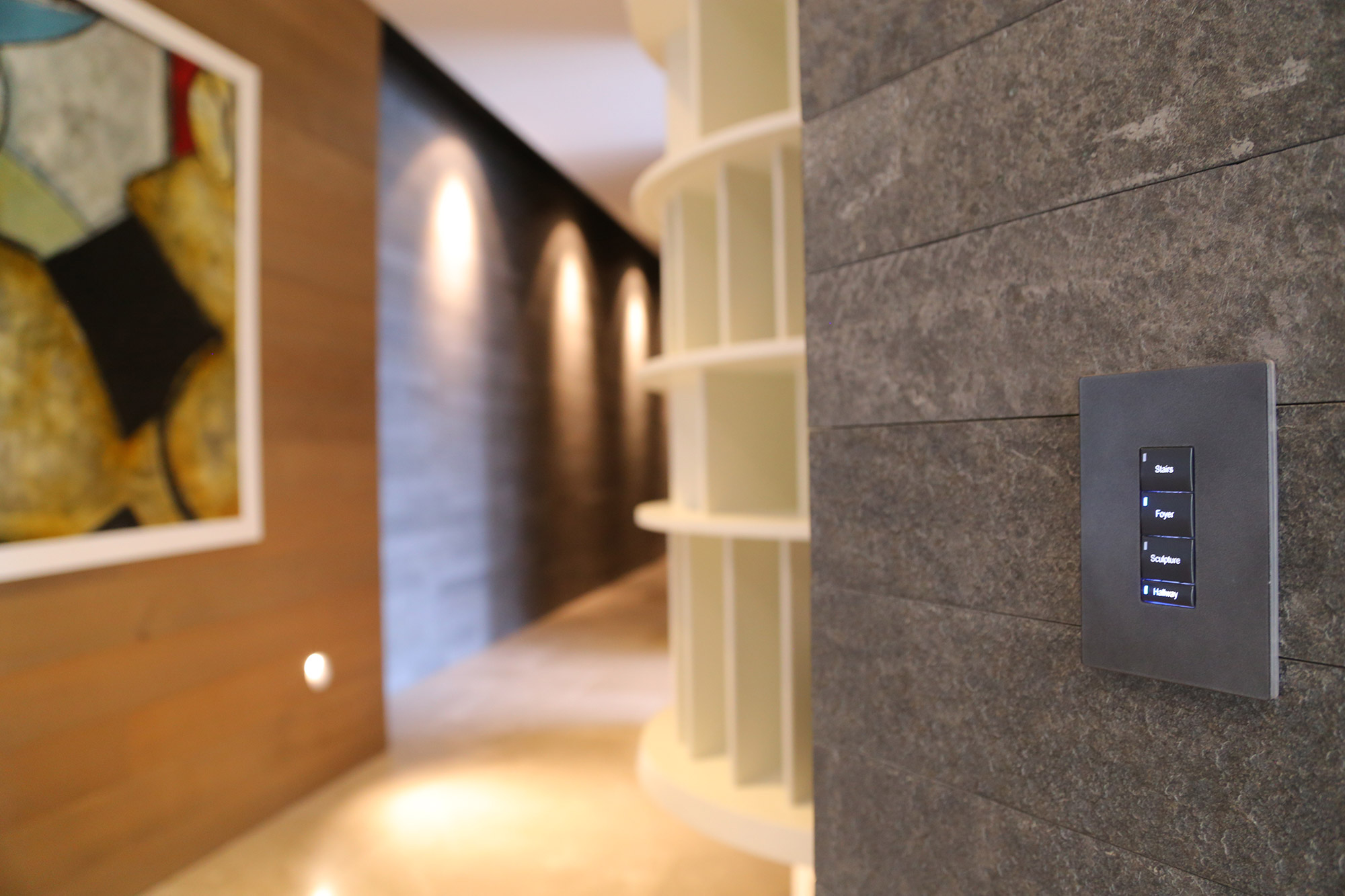 Sound
A media room with a 5.2 surround sound system provides an immersive experience for movies and TV shows. Floor-standing Dynaudio speakers and subwoofers provide perfectly balanced sound at high SPL.
Within the Kitchen customized speakers were placed in the wall space next to the HVAC plenums and covered with a consistent linear HVAC grill resulting in a clean architectural look.
Open up the Kitchen doors to the outdoor living area and speakers have been discreetly placed within the steel pergola structure with bass reinforcement from a subwoofer mounted beneath the timber decking.
Using a smart phone or tablet, users can stream music to any room of the house or group any combination of rooms together to play the same stream.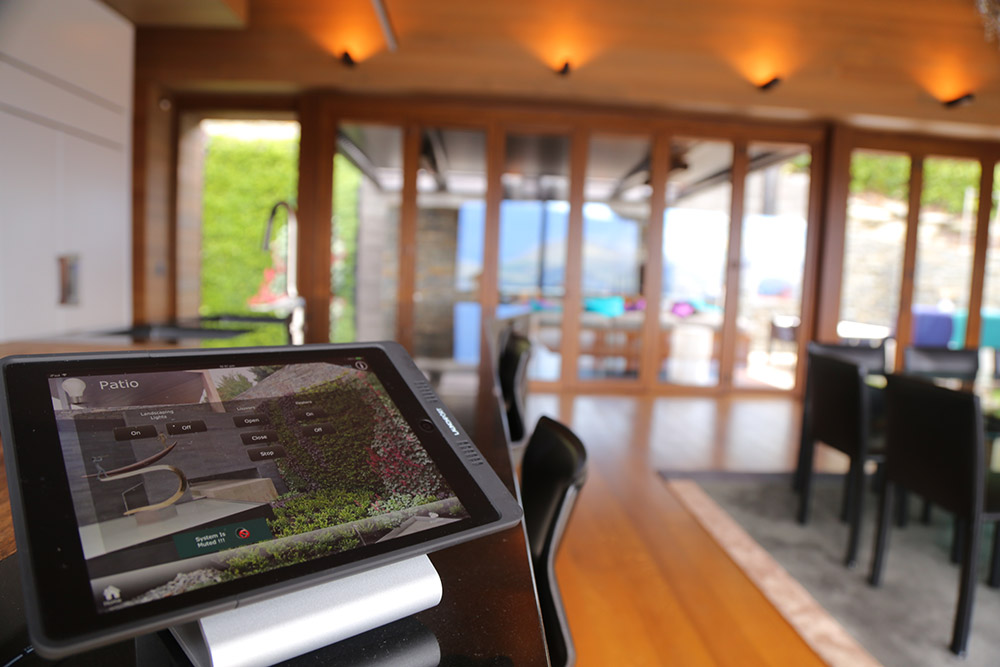 Video
The media room features a native 4K projector displaying image on an impressive 130" cinemascope screen.
Throughout the rest of the house video has been distributed over HDBaseT from a centralized rack to six TV's.
TV's were to be hidden from sight when not in use. Within the Living Room we worked closely with the joiners to mount a TV and Soundbar on a sliding rail system that discreetly hides within a tiled wall. Within the master bedroom the TV was hidden behind a bi-fold cupboard and mounted on a motorized articulating bracket.
Users can choose between multiple SKY decoders, Apple TV's, and localized Bluray/ DVD players and game consoles.

Control
A combination of hard-button and touchscreen remote controls have been used in conjunction with two iPads on Launchport docks.
Users can watch TV or use the media room with a single button press. All of the AV electronics are racked within a Plant Room leaving un-cluttered spaces around TV's.
All lighting, motorized blinds, and window actuators within the house are controlled via hard-button keypads throughout the house. In areas with large numbers of circuits lighting scenes have been used, and if users would like to drill down into individual control of specific circuits they are able to do so via a customized iPad App.
Numerous Wireless access points have been discreetly located to provide WiFi throughout the property.
Products used
Philips Dynalite
RTI
Sonos
Integra
Dynaudio
Speakercraft
Sony
Screen Innovations
Future Automation
Ubiquiti Networks
TESTIMONIAL
Our experience with Strawberry Sound has been second to none…The priority with us was to be assured of after sales service and they haven't disappointed. A pleasure to deal with Reuben and Mark…
Roy Manassen
Project details: Architect - Anna Marie-Chin, Builder - RBJ Construction, Electrician - Aotea Electric